---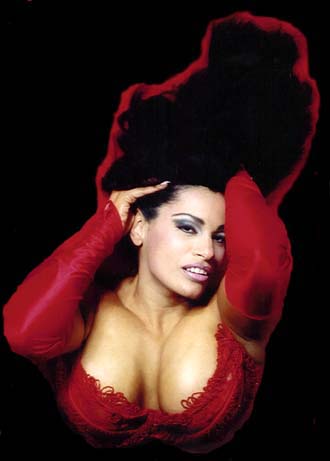 Boxing's most beautiful fan
---
Up close and personal with legendary adult movie star Vanessa Del Rio





When the name Vanessa Del Rio is mentioned, I have no doubt that 
many thoughts come to the readers mind.  I'm sure that over half 
of the male population saw her many adult movies in the late 1970's 
and early 80's.  She gained her success in those movies that she 
made and still to this day, they generate a huge revenue for the 
adult movie industry which she retired from in December 1985/January 
1986. 


Well, as you know, I don't do the obvious interviews. I have 
interviewed many celebrities and Vanessa now joins that elite group 
that I had the pleasure to interview on their love for the sport of 
boxing. 

As you will read, Vanessa has many good points that she makes.  I 
feel that anyone who has positive things to say about a sport that 
always seems to get more negative press for the small fraction that 
is bad, is someone that I enjoy interviewing. 

The following is our interview:





---


Interview by: Brad Berkwitt 

Brad:  How long have you followed boxing?

Vanessa:  I can remember when I was like in the sixth grade going to Catholic 
          School and we had this Franciscan Black Nun who was crazy about 
          Cassius Clay. I can remember her bringing all the news clippings to 
          class and she would be so very excited reading to us about him.  

          In addition, to this, I really followed it when I was dating an ex- 
          fighter back in the early 1970s named, John Rotondo.  He trained up 
          in the Catskill Mountains with the legendary, Cus D'Amato.  After 
          that timeframe, I was on and off with watching boxing.  However, I 
          always kept up with it through the news.  

Brad:  Who are your top three favorite fighters of all-time and why?

Vanessa:  Number one hands down is, Muhammad Ali for the obvious reasons.  His 
          confidence was unlike anyone's I have ever seen.  I looked at him as 
          a role model because everything he set his mind to do he always did.  
          He exemplifies what you can do when you put your mind to it and for 
          that, I truly respect him.  

          I really like Prince Naseem Hamed.  He is so cocky with his prefight 
          act and the funny thing is, he pulls it off.  I like the skills and 
          showmanship he provides in the ring.

          Lennox Lewis.  At first, I was like United States all the way, but 
          after he got truly robbed in the first Holyfield match, I admired how 
          calmly he handled himself.  Since then, I have watched how he acts in
          and out of the ring, and I like the class in which he carries 
          himself.    

          Brad I know you only asked for three, but I must add Sugar Ray 
          Leonard.  He was just so fast in there and truly a schooled fighter.  
          Everytime you would see Ray fight, you got your fill of excitement.  

Brad:  Did you watch the recent Oscar Delahoya vs Sugar Shane Mosley fight and  
       what did you think about it?

Vanessa:  I felt looking at both fighters that they were evenly matched in 
          there.  It was a fantastic fight and one that boxing needs more of.  
          They should be applauded for the efforts they both gave in that fight.

Brad:  Being a fan of boxing for many years, what changes have you seen in the 
       sport?

Vanessa:  I think at one point in the late 1980s through the early 1990s, it 
          kind of went down.  It now seems to be getting back to when I first 
          started watching it.  As of late, there has been so many great 
          matches that I have watched.  Brad, you should hear me rooting for 
          the fighters.  The neighbors probably think I am nuts especially when 
          the fight comes on late and they can hear my yelling.

Brad:  What divisions today do you find the most exciting?

Vanessa:  The Heavyweights and the Middleweights.  

Brad:  Would you like too see boxing go back to the days when you had 15 round 
       championship fights vice the 12 they have today?

Vanessa:  I would have to say yes because watching the Mosley vs Delahoya 
          fight, which had that great 12th round makes me wonder what 13-15 
          would have brought us?  I think we would have seen some really great 
          action in there.

Brad:  What fighters excite you enough as a paying customer to order their PPV 
       matches?

Vanessa:  To be honest Brad, I pay to see them all the time.  I was taken a 
          little back when they charged $50.00 dollars for the Mosley vs 
          Delahoya fight but after seeing it, I think it was worth every dime.

Brad:  Do you think fighters should have a mandatory retirement fund and if so, 
       how would you like to see it done?

Vanessa:  Yes I do.  Actors have their unions that take care of them when they 
          get older. Boxers put so much into the sport and should have some 
          type of fund when they finally hang up the gloves.

Brad:  What is the greatest fight you have ever seen and why?

Vanessa:  Hands down, The Thrilla in Manilla.  I love watching it time and time 
          again, which they show on the Sports Classic TV show here.  In this 
          legendary match, you had two men that fought with every ounce of  
          energy they could muster up.  

          It was a back and forth war and when I saw Frazier at the end unable 
          to come out for the 15th round, I saw the greatness of Muhammad Ali.  
          He perservered throughout a fight that almost saw him retire in his 
          corner as well.  You have to respect a man like Ali for not giving up 
          in a true rumble such as this was.   

Brad:  What do you think of females in boxing?

Vanessa: It's ok as long as they get in there and fight.  I think it would be 
          neat to see Ali vs Frazier's daughter fight.  I actually made a 
          documentary movie in the 1970s about a female fighter named 
          Cathy "Cat" Davis.  


          They filmed me in the ring boxing and I wasn't bad with my fists 
          because as I told you earlier, I was friends with that boxer and he 
          taught me a couple of moves.

Brad:  Finally, what is the saying you live your life by?

Vanessa:  "Never Give Up and Never Take No For An Answer"


Writers closing remarks:  As we hung up the phone, I thought to myself how 
easily approachable and down to earth Vanessa was.  The old saying the bigger 
the star, the nicer they are could not be truer in her case.

Vanessa has an official website at: The official Vanessa Del Rio website 
This site does contain nudity so if you are under 18 be adult enough NOT 
to enter! 

In addition, she encourages fans to write her fanclub at:

Vanessa Del Rio
285 5th Avenue #234
Brooklyn, NY  11215

When writing, tell her you read her interview here.

As always fight fans, keep reaching for the stars and all your dreams can be fulfilled.



---
Brad Berkwitt